Stay in the heart of ubud
Located in the heart of Ubud,  near the city centre. Samhita Garden Ubud envisioned to be the vacation retreat choice of every traveller seeking the ultimate in privacy, comfort, and value for money. 
Tranquility Meets Tradition
Samhita Garden is a Balinese-style building with a modern twist. Beyond nature, culture and architecture. Rooms are dignified and refined with warm-toned Balinese furniture and big balcony windows that bring the tropical setting inside.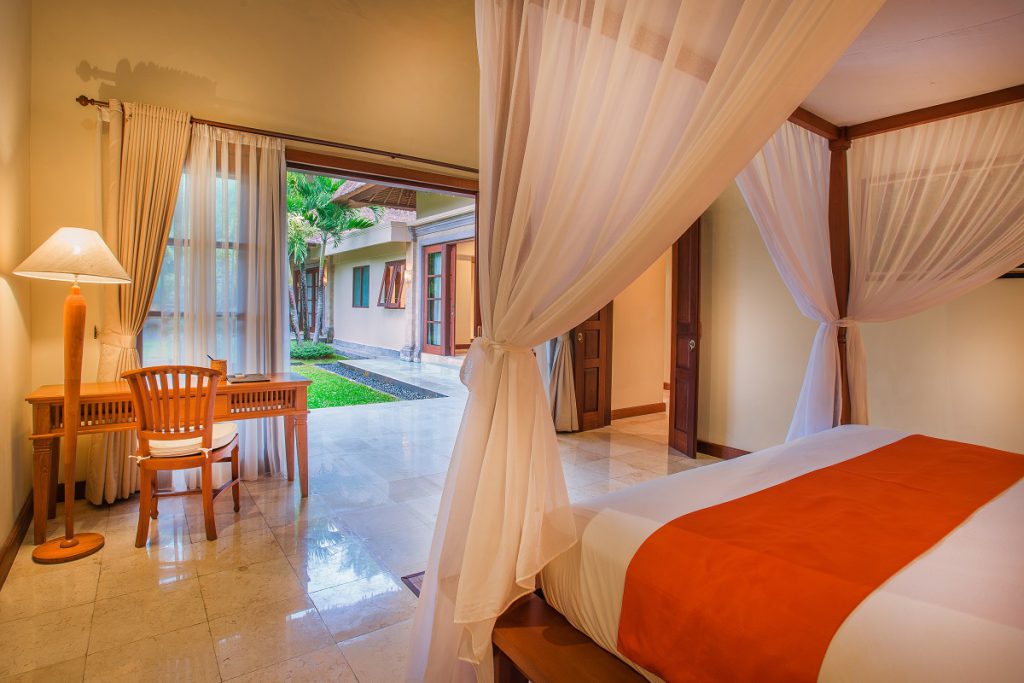 Two bedroom suite thatched roof contains spacious living/dining area with airconditioned.  It's fitted with a minibar, a flat-screen TV and a personal safe.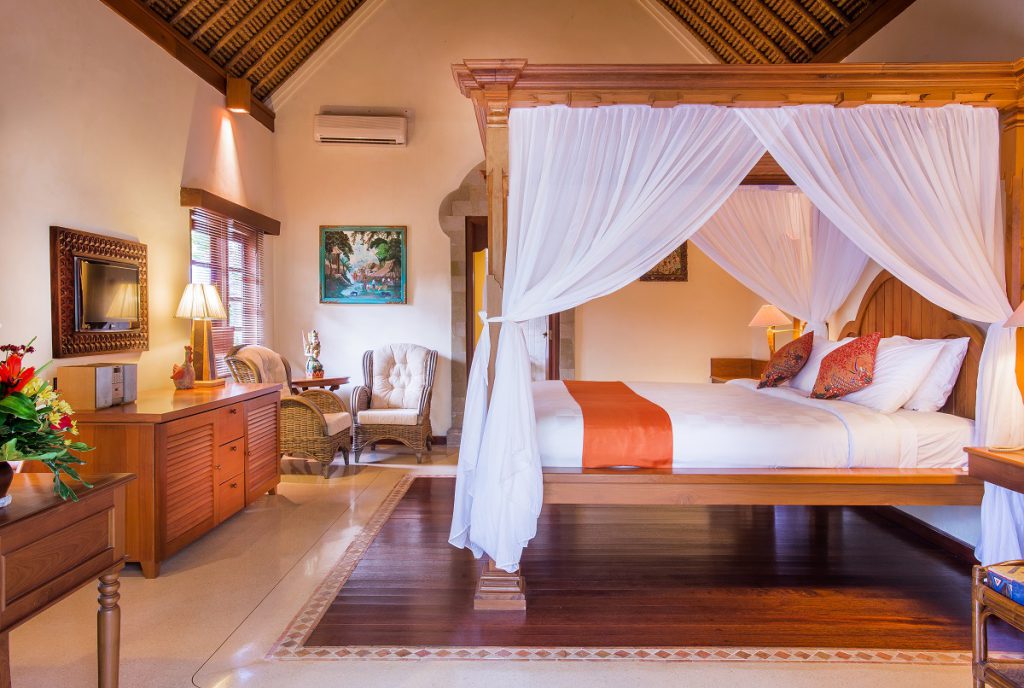 This villa boasts a private plunge pool, a seating area and a dining room. It's fitted with a minibar, a flat-screen TV and a personal safe.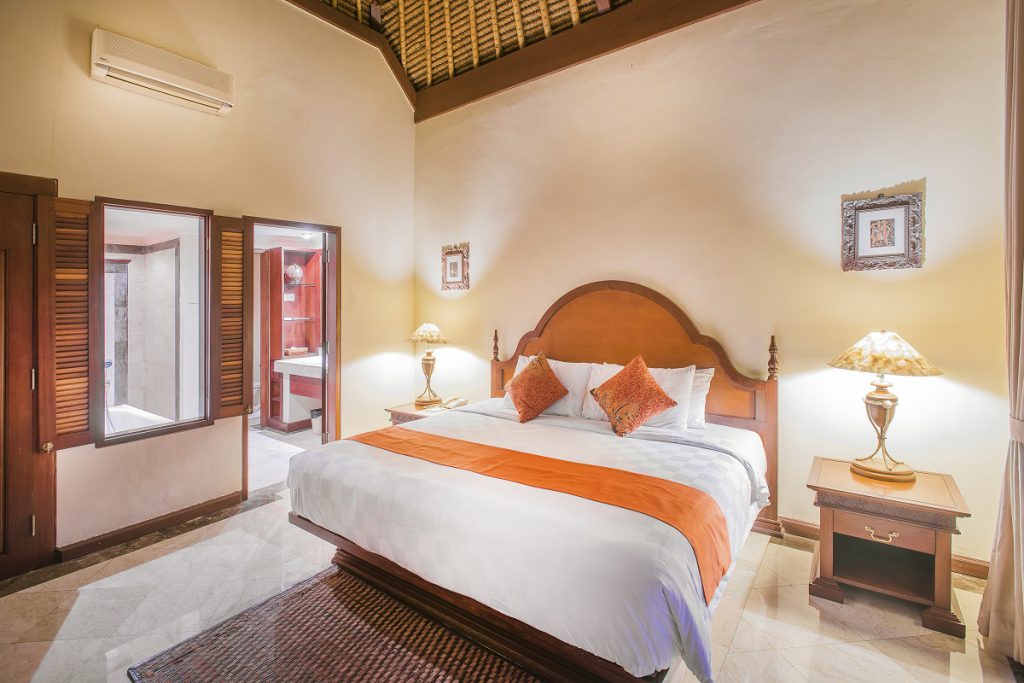 The thatched roof suite has two levels, downstairs is the living room/dining area. It's fitted with a minibar, a flat-screen TV and a personal safe.
'What our customer say about us'..

20日間のバリ島旅行で、一番満足度の高いホテルでした!ロケーションも素晴らしく、ウブド中心部の主要観光スポットに歩いていく事ができます。お部屋もとても広く(ベッド、バスルームも広々!)、ホテル全体もかなり管理の手が行き届いており、プールも汚れておらず、敷地内の草木が美しかったです。スタッフのホスピタリティも完璧で、フロントスタッフの男性はすぐに私たちの顔と部屋番号を覚えてくれ、外出時の鍵の管理もスムーズでした!ウブドに来た際はまた必ず宿泊したいです。
Desire Sieraad
2023.09.29.
Een klein paradijsje midden aan de drukke straat van Ubud, het hotel ligt in de zijstraat met restaurants en supermarkt aan de overkant. Onze 1e ervaring in Bali, maar een goeie ervaring, zo vriendelijk en hielpen met de koffers, wat niet hoefde maar ze doen het toch😉, prachtige huisjes, 2 appartementen boven elkaar, met groot terras, wij hadden het laatste huisje op het complex, mooi uitzicht op een klein tempel, watergeul voor de deur met de mooie waterlelie, zwembad zit vooraan en is top, mooie goeie bedjes, handdoeken bij de receptie verkrijgbaar (gratis), ontbijt vanaf 7.30, is niet uitgebreid maar is goed, croissants,brood, vers fruit, verse smoothies, div ei soorten, bakken, scrambled,bacon. Een mooi hotel, prachtige tuin, en zeker de moeite waard omdat je overal dicht bij zit. Tips voor eten :Warung rococo en Toni zitten dichtbij en zijn echt heel lekker. Cafe Lotus zit bij de water tempel en is wat duurder maar zeker met een show is de water tempel prachtig.schuin tegenover zit casa luna dacht ik daar kan je overheerlijke koffie en honeymoon cake eten 🥰
Very charming hotel, good service. Unfortunately restaurant Why Not across the street has really loud live music at night. Also the breakfast choices are a bit limited.
Clean, lovely staff, great location massive rooms and I had the best sleep there.we are doing Intermediate fasting and the staff was so lovely, they arranged for us every day a breakfast box for when we break the fast. I highly recommend x
Sophie Challinor
2023.09.22.
The rooms are very private, well maintained and presented. The property itself is beautiful and the location is 10/10 to explore Ubud.
Samhita Garden is the first vacation retreat choice
Samhita Garden offers the opportunity to improve your well-being in an exclusive and motivating atmosphere. Take some time off to lounge by the pool or swim in the outdoor swimming pool and restaurant surrounding a tropical garden.  
Authentic Experience of Ubud
Located in the heart of Ubud, the artisan village of Bali and an idyllic destination embodying a serenely timeless way of life